A positive after school activity, with a kick.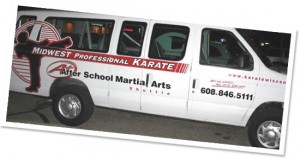 Our After School program begins at 3:15 pm and shuttles kids from school to MPK. It's a great way for kids to flourish in a safe environment and further their karate training. Plans include Part-time (3 days a week), or Full-time (4-5 days a week). "Focus, Spirit, Power" can become a daily focus with this After School program.
View our PDF flyer to get more information.
If you're new to A+ After School, click "Get Rates & Info" below. If you have general questions regarding our After School program, click "Contact MPK".
Pick-up Times
Ages 5 to 7: between 4:30-4:45pm
Ages 8 and up: between 5:00-5:15pm
* There is a 10-minute "grace period" for running late. After ten minutes we will charge $1.00/minute. We staffed to care for students for the time allotted only.
School Closings
Programming from the A+ After School Program is not available during school closings due to weather — or school cancellations for other reasons.