Select below from our available options including Martial Arts, Little Kickers, Self-Defense Training, Total Fitness Training, and MPK Leadership Team.
Martial Arts (age 8 to adult)
Designed to develop a focused and goal-oriented student. Improve your ability, flexibility, and overall well-being. Blends classic exercises & conditioning while developing your martial arts and basic self-defense skills.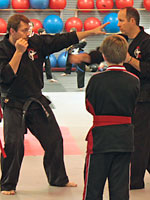 Little Kickers (ages 4-7)
Through kid-friendly games and drills your child can experience the fun of martial arts while learning valuable skills — focus, balance, coordination, and personal control. Perseverance, self respect and self control are the results.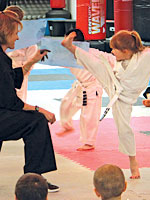 Self-Defense Training
Learn effective self-defense techniques to subdue aggressors in various situations regardless of physical size (incorporated with our regular curriculum). Custom training for groups or advanced training for police departments also available.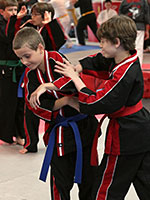 Total Fitness Training & Yoga
A high-energy aerobic workout with a martial arts twist. With cardio, body-toning, kick boxing, bag workouts, and core-strengthening routines, our trainers are certified to help you reach your fitness goals. Also enjoy the peaceful camaraderie of yoga. Start any time.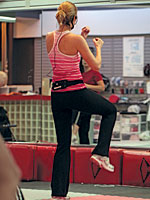 MPK Leadership & Weapons
Get more from your martial arts. This allows students to learn a different side of martial arts. There is an emphasis on leadership qualities and other skills not covered in regular training. Weapons training may include: nunchaku, bo staff, kama, bokken, and escrima sticks. Classes meet twice-a-week for three month rotations.