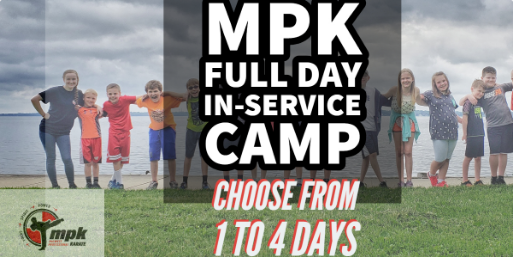 We'll be offering four full-day camps again this year on teacher in-service days. Registration is open now on our MPK MyStudio app.
Camps are open to students age 5 and up and will include a little martial arts with a lot of fun and games. It's a great way to spend the day! We provide the snacks, and students bring their own lunch. Drop off at 7:30 am and pick up at 4 pm. Camp dates are:
October 7, 2019
January 20, 2020
February 3, 2020
May 15, 2020
Buy the four-day package and save! You can take advantage of a discounted rate if you buy all four days up front, or you can register just for the days you need.
Cost and Registration:
$160 for all four days as a package
$45 per camp day when purchased individually
10% discount for 2nd student and 15% discount for 3rd student in a family
If you're registering more than one child, register each child individually. For the second child, use discount code Family2. For the third child, use discount code Family3.
If you have questions or need help getting registered, the front desk staff is happy to assist.